ADRIARadNet is the acronym of ADRIAtic integrated RADar-based and web-oriented information processing system NETwork to support hydro-meteorological monitoring and civil protection decision.
ADRIARadNet is a project cofunded by the European Union, Instrument for Pre-Accession Assistance (IPA).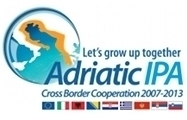 Information and communication technology (ICT) has proved to be an essential tool to develop and finalize applications of public usefulness due to its capability to handle complex scenarios and integrate inhomogeneous components.
ADRIARadNet objective is to set up an integrated web-based scalable-flexible-interoperable ICT infrastructure, based on a network of low-cost weather radars and satellite data to be integrated with web oriented geographic information systems
Two pilot areas (Marche/Abruzzo regions and Croatia/Albania territories) are identified as test-bed areas where experimenting the integrated ADRIARadNet decision support system and automatic procedures in support to civil protection agencies.